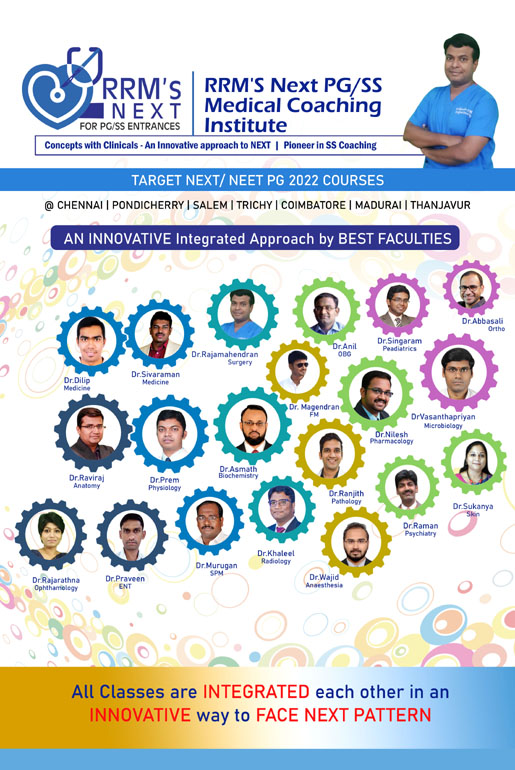 RRM's NEXT PG/SS Medical Coaching Institute
RRM is the Latest venture of Dr Rajamahendran MS, MCh( SGE), Renowned author of more than 10 medical books. The history of PG Entrance training by Dr Rajamahendran goes back to 2009, He is the Founder of KONCPT PG Medical Coaching Institute and he has trained more than 100000 MBBS Students in the past 10 years and made them join their desired Post graduate seat. He is the Pioneer in the country to start- MCh Surgical Gastroenterology Entrance Coaching in 2015 in Chennai. From then until today he has been the mentor and role model for more than 1000's of surgeons. Gradually he started courses for Oncosurgery, Urology, Neurosurgery and Super specialty part of General Surgery entrance examinations.His innovative techniques and Teaching skills has no boundaries. He has released an app for Surgery which is the best of the selling apps in the Country presently. With future insights and innovative plans he started his own new venture- RRM's NEXT PG/SS Medical Coaching Institute with full efforts on 2020, October 1st.
RRM's NEXT PG/SS Medical Coaching Institute will be running in Chennai, Trichy, Pondicherry, Coimbatore and Salem in Tamil nadu and will be running with Partnership deals in Bangalore and Telangana. The Super specialty programs will be done in Chennai and Delhi .
The Institute has long term vision to start MRCS Programs, Skill Courses, Endoscopy and Laparoscopy Training, Observer ship courses, etc.. The Institute will be focussing towards the feedbacks of the students and will be the most caring and user friendly Institute. We run with motto " Focussed Individual care to each and every student", with Upcoming NEXT syllabus we have modified ourselves and all our Faculties are India's Best faculties and our well wishers, with this team of faculties we will bring the Best Quality care and Focus towards NEXT Exams.. We could pulse the fear of most parents of MBBS Students towards NEET converting to NEXT. To overcome your fear we have made all sessions suitable for your kids to clear without much stress.
Innovative Approach of " Concepts behind Clinicals" is focussed in all our classes and we will make the NEXT exam a cake walk under our training
1500
+
Registered Students
76
K
NEET-PG Class Every Year
50
+
Professional Instructors
8
+
Live Session Every Month
Let's Take a Small Tour From Our Campus

Our Student Parents Say About Us
Sed ut perspiciatis unde omnis iste natus error sit voluptatem accusantium doloremque laudantium, totam rem aperiam, eaque ipsa quae ab illo inventore veritatis et quasi architecto beatae vitae dicta sunt explicabo. Nemo enim ipsam voluptatem quia voluptas sit aspernatur aut odit aut fugit sed quia consequuntur

David Mccgelin
SR Consultant
Sed ut perspiciatis unde omnis iste natus error sit voluptatem accusantium doloremque laudantium, totam rem aperiam, eaque ipsa quae ab illo inventore veritatis et quasi architecto beatae vitae dicta sunt explicabo. Nemo enim ipsam voluptatem quia voluptas sit aspernatur aut odit aut fugit sed quia consequuntur

Ankeila Mokina
App Developer
Sed ut perspiciatis unde omnis iste natus error sit voluptatem accusantium doloremque laudantium, totam rem aperiam, eaque ipsa quae ab illo inventore veritatis et quasi architecto beatae vitae dicta sunt explicabo. Nemo enim ipsam voluptatem quia voluptas sit aspernatur aut odit aut fugit sed quia consequuntur

Mick Maxxwell
SR Consultant
Sed ut perspiciatis unde omnis iste natus error sit voluptatem accusantium doloremque laudantium, totam rem aperiam, eaque ipsa quae ab illo inventore veritatis et quasi architecto beatae vitae dicta sunt explicabo. Nemo enim ipsam voluptatem quia voluptas sit aspernatur aut odit aut fugit sed quia consequuntur

Kieron Smith
App Developer